SANDIP SOPARRKAR – SALSA, BALLROOM and MUCH MORE!
Posted by Shyla Lopez on July 23, 2009 | No Comments
From running his own studio, to training Bollywood's artists, to conduting a show on television and finally to working with the best of the West, he has done it all in his realm of specialization…aka…the dance form.
Sandip tell us about your background?
What prompted you to take up dancing as a career? at what point in life you decided DANCE was your calling?
I danced as hobby before.. as a passion.. that I really felt for… I would run to my dance class after appointments and work.. one day I felt… I am tired of running.. and want to be in class only.. so I made up my mind..
You have trained many celebrities, who have you enjoyed teaching the most? how different are they from the regular students coming to your school?
In bollywood I loved teaching Kajol… she is so full of life and enthu.. about dance.. in hollywood.. Britney Spears… she is so dedicated and creative … can make a simple move make do wonderful that one will say.. wow..
Of all the Ballroom dance, which is your favourite? Do you enjoy Bollywood dance?
Among the Latin Ballroom dances I love Rumba,… its a Cuban dance of love.. and the Paso Doble.. its a Spanish Bull Fight dance…under standard ballroom I like the Tango…I love bollywood dances… for their expressions.. not movements really
When you train students for the International Dance Sport competetion what is your biggest challenge?
Till now a couple have represented India for many Asian Championships… and even the Indoor Asian Games…as of now the biggest challenge we have to face is the budget… to organise stuff for them….
India has aweosme potentail to make it big in Latin and Ballroom dances… but we need to break away from being Bollywood dance crazy… only then we can make a mark internationally….
What are your upcoming projects?
I am doing a few films and plays… choreographed for Director Rob Marshall's next Hollywood film "Nine" with Penelope Cruz, Denial Day Lewis, Nicole Kidman, Judi Dench & Sophea Loren. His next Play is Broadway musical 'Bruce Lee; Journey To The West' which will be launched in February 2010.
My forthcoming projects in Bollywood, are N Chandra's Latin dance based film 'Cyclone', Pradeep Guha production 'Phir Kabhie' starring Mithun & Dimple Kapadia, Percept Picture film 'Raftar' with Emran Hashmi & Neha Dhupia, Hrthik Roshan & Kangana Ranaut Starrer 'Kites' Directed by Anurag Basu.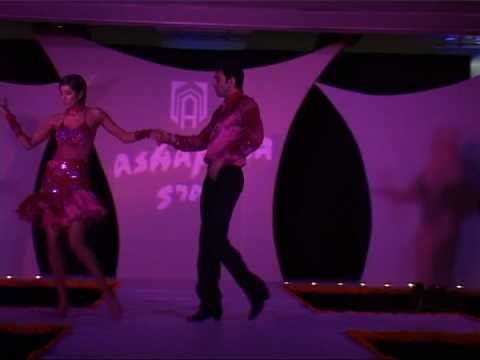 Interviewed by Shyla Lopez